How does assignments work?
Once a clinician submits their eConsult, our assignment algorithm assigns it to a specialist. The specialist receives an immediate alert to notify them about the newly assigned case. Depending on the specialty and type of eConsult, the specialist will have 1-5 hours to accept or decline the case. Once the specialist accepts the case, the timer resets, and they have an additional three hours to respond to the case. The eConsult remains assigned to the same specialist until it expires. We provide additional flexibility in response time on weeknights and weekends.
How to respond to an eConsult?
To complete a consult, you must log onto the platform or click on the emailed link, which will take you to the consult. You may also receive email and/or push notifications when a consult needs your attention, such as when a clinician uploads a new image or gives an additional comment.
When a case is assigned to you, you have three hours to accept and another three hours to respond. We provide more flexibility in the evenings and weekends.
Response Format
Responses with the best ratings have the following features:
Personalized and concise, yet as comprehensive as you can be given the limited data (show professional courtesy and collegiality)
Educational (explain your rationale, consider clinical pearls, mini-roadmaps - references/guidelines can be helpful but are not always necessary or applicable)
Useful, practical insights keeping resource-limited environments in mind (consider alternative pathways to avoid wasted care)
To complete a new consult:
A new consult will appear in the "Taskbox" tab of your web platform (you will also receive an email and text notification if enabled)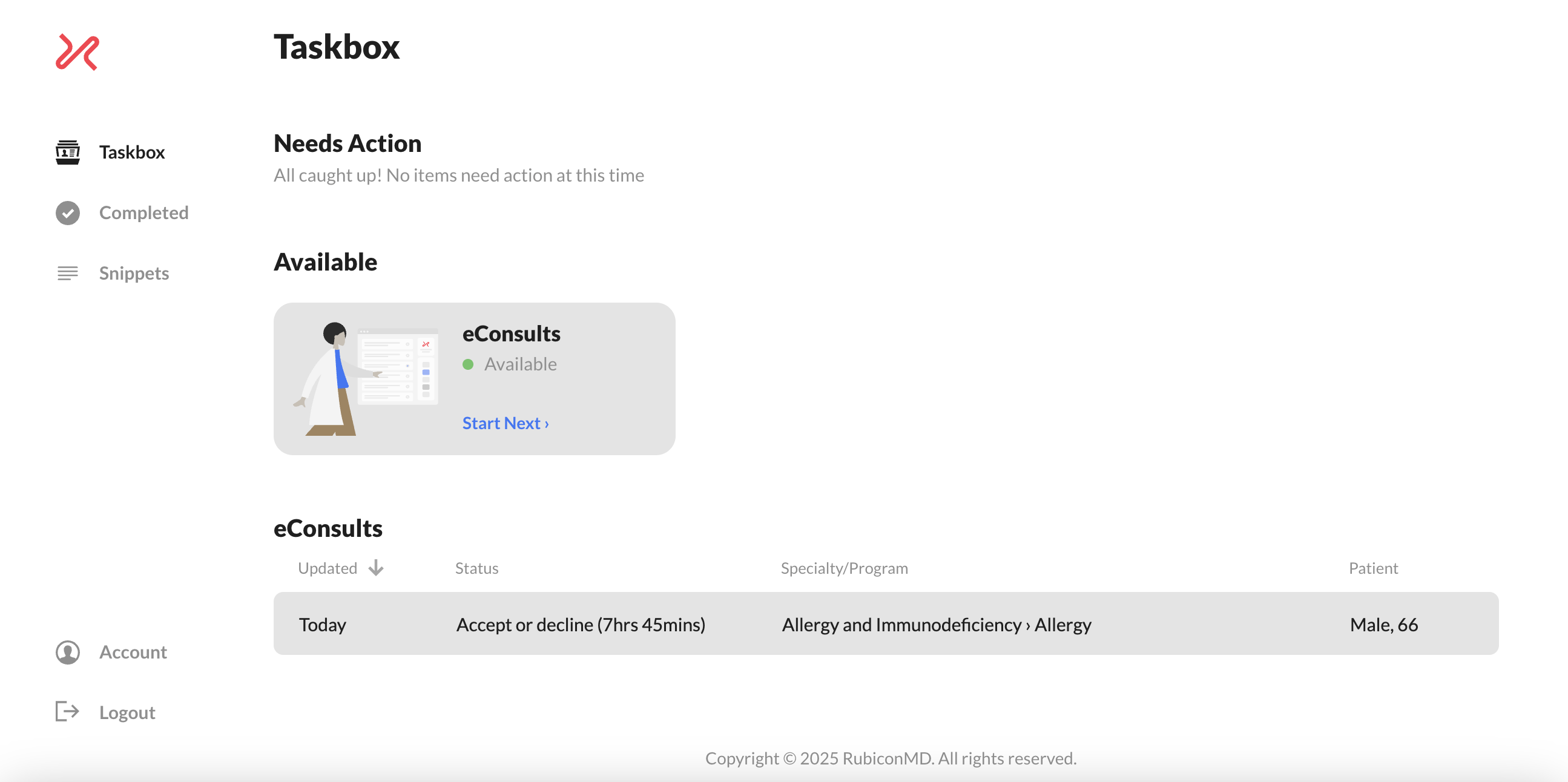 Click on the consult

Note: A preview of the consult will be available for your review before you accept or decline the case

Click "Accept" to respond (a response box will appear)

Use "Snippets" to enter general statements and provide your general thoughts
There is an option to "Add attachment"

Once you're ready, click "Submit"